Filter by Category
MIAMI, FL
Picoscope 7 for the BMW Tech (Oakland Park, FL)
with Justin Morgan

Jun 3, 2023 at 8 am
Where: Autobahn Performance 698 NE 45 St Oakland Park , FL 33334 (954-906-7146)
Time: 8:00AM -5:00PM
***Attendees may not be accepted if course reaches capacity. Refunds will be issued for courses that are canceled due to low enrollment. (Travel reimbursements are excluded)
Amenities: Hot breakfast and lunch provided
Jump in and become well acclimated to Picoscope Auto 7. Pico 7 is a whole new outlook on the most powerful diagnostic tool in the automotive trade. While becoming comfortable with all the controls and operation of the new Pico software, we also dive into using it specifically when diagnosing BMW's. Allowing attendees to experience diagnosis of real-world BMW diagnosis using Picoscope .
This class will cover:
-Scope Components and Setup Basics
-Operation of PICO 7
-Exploring useful testing to diagnose popular BMW issues
-Diagnosing timing issues with Cam/Crank sync
-BMW ignition system scoping
-Communication Network scoping
-Valvetronic 3, Actuator or DME Failure
-Getting the most of your time with Pico 7
BMW TIS, ISTA, & AIR - In Person (Oakland Park, FL)
with Justin Morgan

Jun 4, 2023 at 8 am
Where: Where: Autobahn Performance 698 NE 45 St Oakland Park , FL 33334 (954-906-7146)
Time: 8:00AM - 5:00PM
Step into the world of BMW diagnostics with factory repair information, scan tool, and programming. This course will cover the ins and outs to finding service information thru BMW's technical information website (TIS). Once students have learned to navigate TIS then they will dive deep into the factory scan tool (ISTA D) and the Information system AIR. Finding wiring diagrams, running test plans, acquiring live data and much more. Ending out with discussing programming thru ISTA P (E chassis cars) and ISTA D (F&G chassis cars).
 Class includes a up to date reference and training manual to ensure the technician is successful with BMW information systems after class.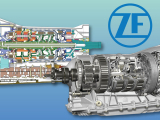 ZF 6HP / 8HP Diagnostics & Overhaul (In Person) Oakland Park, FL
with Francisco Moreno

Jun 10, 2023 at 8 am
Where: Black Horse Automotive - European Auto Center 1139 E Commercial Blvd Oakland Park , FL 33334
Time: 8:00AM - 5:00PM
***Attendees may not be accepted if course reaches capacity. Refunds will be issued for courses that are canceled due to low enrollment. (Travel reimbursements are excluded)
Building transmissions and gear drive systems is at the heart of what ZF does, and throughout its history, ZF has been at the forefront of pushing transmission technology forward. With these technological and engineering advancements, staying up to date on the latest diagnostic and overhaul procedures is critical.
During this training, participants can expect to learn procedures that will aid them with not only understanding how ZF 6HP and 8HP transmissions operate, but with diagnosing and repairing these transmissions in a real-world environment. Additionally, this training gives participants the chance to apply the knowledge that they have gained in the classroom setting to a ZF transmission, under the guidance of a ZF Technical Trainer.
 After completing this training, the participant will be able to:
• List internal components of the 6HP and 8HP transmissions
• Describe differences between pressure regulators and solenoids
• Identify the different characteristics of pressure regulators
• Differentiate between mechatronic types
• Explain the shifting strategy of the ZF 6HP and 8HP transmissions
• Explain an oil change service procedure
• Analyze transmission adaptation values
• Explain adaptation values to assist in the diagnostic procedure
• Identify the most common failures of the ZF 6HP and 8HP transmissions
• Identify the torque flow of all gears
• Review the disassembly and assembly process of the 6HP and 8HP transmissions
• Review the disassembly and assembly process of ZF mechatronics