Filter by Category
Pico Scope for the BMW Tech
BMW PicoScope® 2-Day Webinar July 25th-26th
with Justin Morgan

Jul 25, 2020 at 10 am
This interactive online class features professional instruction from Justin Morgan, Master Tech and Trainer for LMV Bavarian. Streaming live from an actual shop, Justin will walk students through an engaging session on how to utilize a PicoScope®  to increase efficiency and accuracy when diagnosing common issues with late Model BMW's.
PLEASE READ >>
This class is $359 per SHOP allowing multiple shop employees to learn for a nominal investment.
This price includes ONE Workbook and $50 Discount Coupon on a Picoscope
ONLY sign up once per shop for this class!
You must register separately for each additional workbooks.
Additional Workbooks: https://ssf.coursestorm.com/course/bmw-picoscope-workbook-only-july-25th-26th
Dates:
Sat. July 25th 12:00PM - 4:00PM Central Time
Sun. July 26th 12:00PM - 4:00PM Central Time
Specific Topics Include
Scope set-up and basics
Common tests to diagnose BMW issues
Relative compression and how to use it
Cam crank sync and how to diagnose timing issues from them
Communication scoping
Valvetronic 3; VVT actuator or DME failure
Getting the most from your diagnostic time using Pico
Format: 
Two 4-hour Webinars on Saturday and Sunday
10 Minute Break Every Hour
Class Limited to 35 Shops
Will run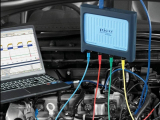 BMW Picoscope® WORKBOOK ONLY July 25th-26th
with Justin Morgan

Jul 25, 2020 at 10 am
To receive additional printed workbooks for the July 25-26 Picoscope Class plus the $50 Discount Coupon you must register here.
Each person wanting a workbook must register individually. Only one webinar registration per shop is needed and comes with one workbook.
Each shop must also register once for the class. Register for class here: https://ssf.coursestorm.com/course/bmw-pico-scope-2-day-webinar-july-25th-26th
Will run
Registration Unavailable
PicoScope® for the BMW Tech - SF, 8/8
with Justin Morgan
Scope set-up and basics
Common tests to diagnose BMW issues
Relative compression and how to use it
Cam crank sync and how to diagnose timing issues from them
Communication scoping
Valvetronic 3; VVT actuator or DME failure
Getting the most from your diagnostic time using Pico